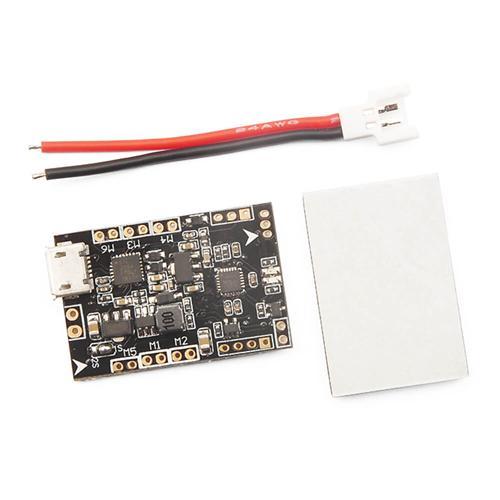 32bit ACRO NAZE32 BRUSH Brushed Flight Controller for DIY Micro FPV Frame Kit
Highlights
NAZE32_BRUSH is in the revision on the basis of NAZE32 flight control, it is a 32bit brush controller base on NAZE32 firmware.
The flight control supports 1S (4.2V) and 2S (8.4V) power supply.
Independent circuit structure, comes with the pressure reduction technology, whether it is 1S or 2S power input, UART1/2 output 5V, UART3 output 3.3V
With large current NMOS transistors, operating current up to 10A or more.
Support for PPM, SBUS, DSM receiver input signal.
With battery voltage detection and buzzer interface.
Support for almost all hollow cup motors, including 1020 coreless motor.Support 6 motor.
Specification
General

Type: Flight Controller
Quantity: 1 Piece
Compatible: DIY Micro FPV Frame Kit

Receiver Configuration

DSM receiver soldered directly to the DSM interface 3.3V, GND, RX3, in CF software configuration UART3 for Serial RX, and change the Receiver mode to RX_SERIAL,and then set up the receiver brand with Spektrum1024 or 2048.
SBUS receiver soldered on UART2 interface.SBUS signal in CF software configuration UART2 for Serial RX,and change the Receiver mode to RX_SERIAL,and then set up the receiver brand with SBUS.
PPM receiver soldered on PPM interface.No need to open RX Serial, just in the CF software to change the Receiver mode for RX_PPM.

Dimensions&Weight

Dimension: 22mm*32.5mm
Thickness: 1.2mm
Weight: 3g

Notice

Before powering up, pay attention to the battery voltage selection.
The default shipping is 1S (4.2V); When using 2S, first disconnect the short contacts 1S, and then put the two pads on the 2S.
Prohibit shorted together the three pads at the same time.

Package Contents

1 x ACRO NAZE32_BRUSH Flight Control Board

Customer Comments
| Author/Date | Rating | Comment |
| --- | --- | --- |