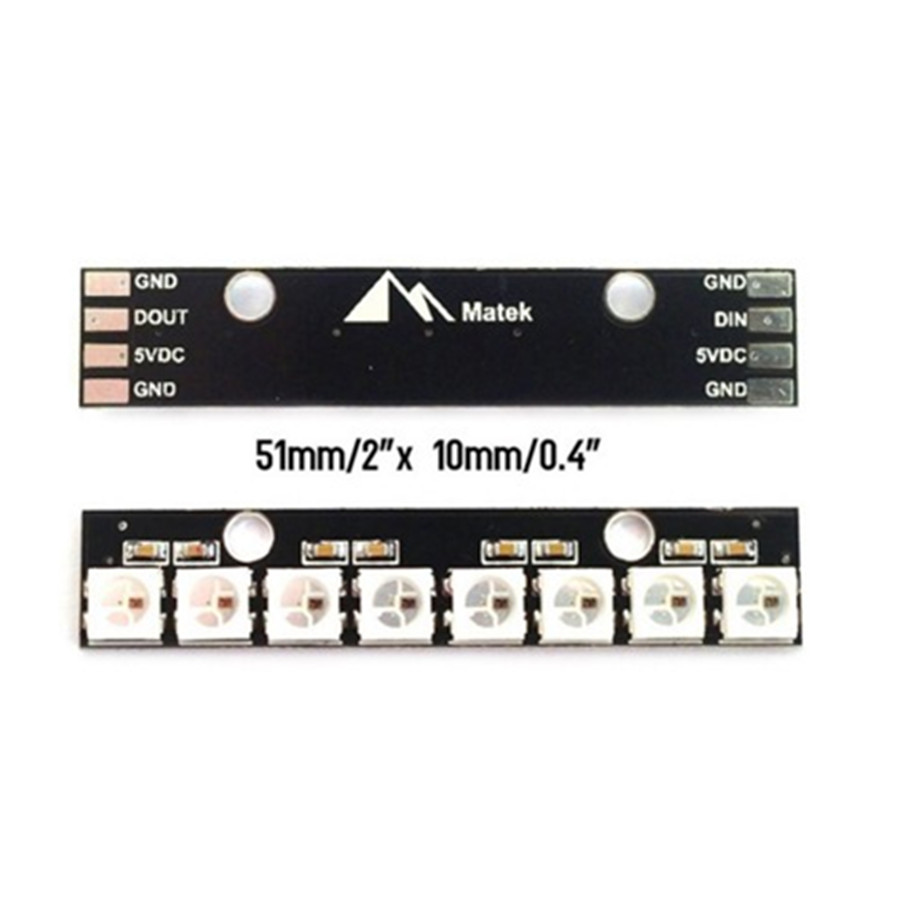 Matek 8 Bit WS2812B RGB 5050 Highlight LED
Description:
Brand Name:Matek

Item Name:WS2812B RGB 5050 LED

Voltage: about 5V

Ports: Digital

Size: 51x10 mm

Platform: AVR, Arduino,Naze32 / CC3D Flight Control (need to brush CleanFlight)
Features:
Built-in controller chip, only need an IO port to control multiple LED

Chip built-in shaping circuit,signal distortion is not cumulative, stable display

Trichromatic 256 brightness adjustment, scan frequency is not less than 400Hz / S

Serial connection-level interface, through a signal line to finish receiving and decoding data

Both ends have interfaces (DIN DOUT) that can be cascaded

Will show the flight control lock / unlock,left and right aileron, brake, throttle, alarm and other status.
Note:
If it is used for Naze32 or CC3D flight control,it need to brushed CleanFlight, and using PPM receivers.
Used for CC3D flight controller,you should pay attention to the following points:
-CC3D need to brushed CleanFlight firmware.

-Using PPM / SBUS receiver, you don't use PWM receiver.

-GND 5V DIN behind the lights should connected to CC3D fifth row - + S of the motor output side.

-Choosing PPM receiver in the CF's assistant software configuration,then choose LED_STRIP options.

-Finally into the CF assistant software LED Strip Page to setup various states.
Package Included:
1x WS2812B RGB 5050 LED
Customer Comments
| Author/Date | Rating | Comment |
| --- | --- | --- |