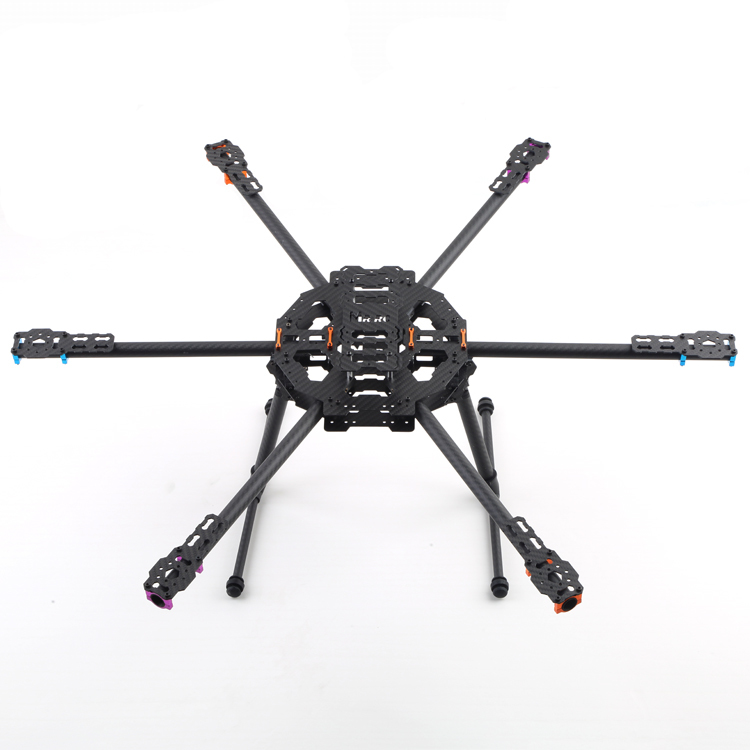 Mr.RC 680 Hexacopter Carbon Fiber Full Folding Frame
Product description:
MR.RC 680 carbon fiber frame adopts 3K carbon fiber cloth woven carbon fiber board and 3K hollow pure carbon carbon fiber tube (non 3K glassy carbon tube) CNC machining, design standards higher than similar products, the whole machine weighs only 600 grams. The folding design, for the user design requirements of high portability, especially suitable for monitoring, remote sensing, mapping, aerial observation, fire, life exploration, cable line, farm monitoring, high requirement on the performance of mobile applications, equipment load.
Configuration requirements:
The wheelbase is 680MM in diameter, about 300W light disc machine, 12-13 inch carbon fiber propeller, 3-4S cell,
With moderate load (for example, a small digital camera, a small single camera etc.), suitable for a variety of small range aerial photography(photos, video) with the ground station system can achieve a variety of light load operation.
Specifications:
Material: 3K carbon fiber
Package size: 36 * 23 * 6cm
Package weight: 887g
Package Included:
Mr.RC 680 Hexacopter Carbon Fiber Full Folding Frame Kit (RM390)
ARF included:
Mr.RC 680 Hexacopter Carbon Fiber Full Folding Frame Kit (RM390)
QX3508-680kV x 6pcs (RM450)
Hobbywing X-rotor 40A ESC x 6pcs (RM300)
Naza M-Lite with GPS (RM330)
1340 Carbon fiber Propeller x 3pair (RM126)
Matek 5 in 1 Hub V3 (RM37)
Free
Gold Plated Bullet Connector, Dean-T Connector, AWG Silicon Wire
Fullset included:
Mr.RC 680 Hexacopter Carbon Fiber Full Folding Frame Kit (RM390)
QX3508-680kV x 6pcs (RM450)
Hobbywing X-rotor 40A ESC x 6pcs (RM300)
Naza M-Lite with GPS (RM330)
1340 Carbon fiber Propeller x 3pair (RM126)
Matek 5 in 1 Hub V3 (RM37)
FlySky FS-i6 Radio Controller (RM200)
2-3s Balance Charger (RM35)
Infinity 14.8V 5200mAh 35c Lipo Battery (RM200)
Free
Gold Plated Bullet Connector, Dean-T Connector, AWG Silicon Wire, 1-8S Buzzer, Transmitter Neck Strap,Velcro and Velcro Battery Strap
Customer Comments
| Author/Date | Rating | Comment |
| --- | --- | --- |